Electronics For You
August 2022
Vol No. 54 Issue No. 8
Now on Newsstands !!!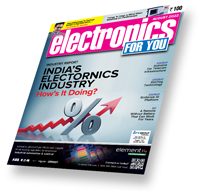 Click here for full details...
Strategy
GROWTH: India's Electronics Industry: How's It Doing?

Do-It-Yourself
PROJECT: API Server On ESP8266 Using MicroPython
Download source code

Do-It-Yourself
PROJECT: A Remote Without Battery That Can Work For Years
Download source code

Strategy
INNOVATION: How We Can Innovate Better


Strategy
MY STORY: "Inquisitiveness To Explore Makes A Big Difference..." — Dr Aloknath De, FNAE, Executive Consulting Director, Samsung

and lots more...